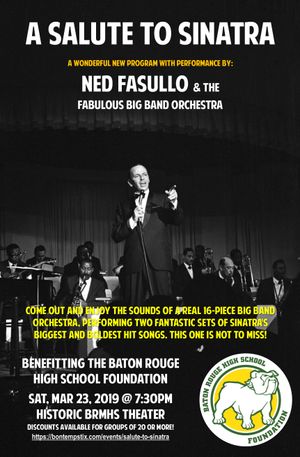 When is a concert performance perfect? It is when the performers are Ned Fasullo and the Fabulous Big Band Orchestra in a great venue such as the Historic Auditorium of Baton Rouge High!! 
The large crowd in attendance was treated to an unforgettable, sentimental journey of iconic American favorite tunes. Everyone present will long remember when Ned and the Big Band created beautiful music in an elegant and accomplished style.  
An exceptionally talented vocalist, Mr. Fasullo only began singing as an adult and – amazingly -- is entirely self-taught. In his "Salute to Sinatra," he swings and croons – with unforgettable success -- as if he were the ghost of "Old Blue Eyes" himself. He has a gifted stage presence and had the audience in the palm of his capable hands. 
A crowd of 600+ sat in the beautifully renovated auditorium and was quietly mesmerized by Ned's magical treatment of yesteryear's moving ballads and then lifted up with his renditions of Swing so smoothly and seamlessly that we were swaying in our seats. It was difficult not to get up and dance. 
Mr. Fasullo and the Fabulous Big Band Orchestra complemented each other perfectly. An extraordinary group of musicians from our area (and two members from nearby cities), they were every bit as good as any of the greatest of the Big Bands ... and I do NOT exaggerate. The Orchestra was specially featured on the difficult classic instrumental, "Sing, Sing, Sing," with drummer Travis Henthorn who is as good as the legendary Gene Kruppa. The rhythm section was every bit the equal of the celebrated Benny Goodman Orchestra that recorded the original version. The audience was spellbound! 
My wife and others agreed that Ned and the Orchestra are "better than Ole Blue Eyes and Nelson Riddle's group". I'll echo that I saw Sinatra years ago in a large, noisy room at a Las Vegas Hotel, and Ned Fasullo and the Fabulous Big Band Orchestra produced an infinitely more enjoyable experience. 
I look forward to seeing much more of the Fasullo/Band repertoire. They are quite accomplished on much more of the music and artists that we all remember and love. Treat yourself to a Ned Fasullo performance as soon as you can!!
Winston Day, Show Co-Host 
Sunny Side of the Street radio program  
90.3 FM WBRH Radio